The Girls Next Door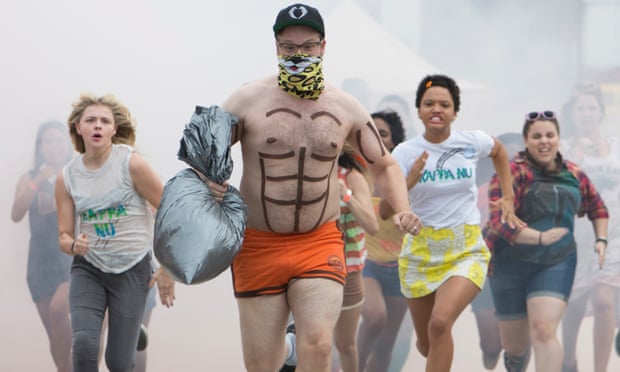 In case you haven't been paying attention Hollywood is having a crisis of identity right now.
It seems like every major blockbuster opens up this patriarchal industry to criticism of systemic white-washing and disparities in gender representation.
It's a very real problem: Marvel changed Iron Man 3's villain from a woman to a man over fears that toys wouldn't sell and the likes of Gods of Egypt may as well have been called Gods of Eurasians.
Bad Neighbours 2 is a clear attempt to better represent women by shunning the misogyny that swills around bro culture like a turd that won't flush. There's even a line in the script where Seth Rogen even states, in no uncertain terms, "I'm not fist-bumping that!" after a derogatory comment is made about the fairer gender.
Whilst Bad Neighbours 2 should be applauded for essentially not being a dickhead it still feels like something written by men, for men, whilst trying to sidestep the sexism row.
The film shows a group of young women who want to set up their own sorority to do what they want and party how they want but we don't spend enough time with the girls to believe that they are a close knit sisterhood. Therefore proclamations about how the girls can't live without their sorority fails to resonate.
The sorority parties seem almost exactly the same as the frat parties – only with less idiots painting smiley faces on their johnson. That said; I'm a big dumb man so I can't judge what women want but to me the odd pyjama party didn't feel overly convincing.
Don't let that put you off though because Bad Neighbours 2 does everything Bad Neighbours did with equal aptitude. There are enough outrageous moments to keep you chuckling which is the most important part of a comedy.
The cast also look like they are enjoying themselves whilst filming which makes the synergy between the characters feel natural. This is most notable between Rose Byrne, Zac Efron and Seth Rogen.
The chemistry between the sorority members is not so convincing and in fact it's only thanks to Zac Efron that the sorority can gel together in the hollow way that they do which only lends credence to my previous concerns.
I didn't enjoy this as much as the original but it is still an enjoyable watch with another brilliant airbag scene. One word of caution though: if you are expecting a show of girl power from the ladies next door you might want to check if the spice girls are still touring instead!
The Good, The Bad and The Outcome:
+ Outrageous comedy moments
+ Good cast
+ Airbags!

– Feminist agenda feels tacked on
– Sorority don't feel like sisters